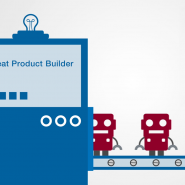 5 Keys to Delivering Great Products
Lets face it, no one wakes up in the morning with a goal to build mediocre applications or websites. That being said, it's really tough to build great products. Here are 5 keys to consider when you have a great idea which needs to be turned into a great product.
Alignment
So you want to create the next Uber or Air BnB. How do you turn that big idea into a successful product? A great first step is to map or "align" your ideas with concrete business objectives. The folks at Uber realized cars which sit idle are a potential resource. By matching drivers with riders, they could realize a portion of the fare (one of their business objectives).
Process isn't the silver bullet
Adopting better processes or methodologies is great! A good development framework provides a set of guidelines for the team to follow and often includes ways to measure the effectiveness of their efforts. However, as in any situation where people are involved, flexibility and good judgement also play a crucial role. A good Product Owner or Project Manager knows when to go beyond a prescribed process while also minimizing risk.
Go Modular
With any big idea invariably comes complexity. Imagine if the developers of the first great word processing software simply said "I want to take what I do on my typewriter and do it on a computer". A herculean effort would be required. Years of development experience show modular architectures & an iterative approach to development allow complex systems to be broken down into manageable pieces of functionality. Of course each piece of functionality needs clear requirements and universal understanding of what it's successful delivery looks like.
Great Teams build great products
If your team doesn't have all the necessary skills, the product you deliver will likely be deficient in some way. Cross-functional teams tend to work best and help to avoid "Silos of thinking". For example, if Amazon didn't include someone well versed in User Experience Design, they may never have realized that by reducing friction in their checkout process, they could increase sales and reduce shopping cart abandonment rates. The result of having the right people on their team directly led to their 1-Click checkout process.
Experience Matters
Don't be too hasty to ignore what outside expertise can offer. Sometimes you need someone with the experience to help you properly define product requirements or engage with stakeholders to build consensus around the priorities in a product backlog. An experienced outsider can round out a team and provide a fresh perspective.
Don Aker has spent his whole career designing and building great digital products for some of the world's best brands. He and the Agency Zed team can help you deliver great products too!